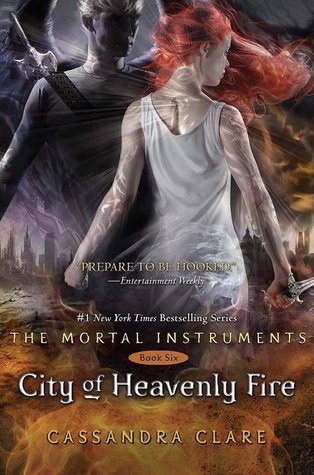 Series:
The Mortal Instruments
~~
Release Date:
05/27/2014
Source:
borrowed from a friend
From Goodreads:

In this dazzling and long-awaited conclusion to the acclaimed Mortal Instruments series, Clary and her friends fight the greatest evil they have ever faced: Clary's own brother.

Sebastian Morgenstern is on the move, systematically turning Shadowhunter against Shadowhunter. Bearing the Infernal Cup, he transforms Shadowhunters into creatures out of nightmare, tearing apart families and lovers as the ranks of his Endarkened army swell.

The embattled Shadowhunters withdraw to Idris - but not even the famed demon towers of Alicante can keep Sebastian at bay. And with the Nephilim trapped in Idris, who will guard the world against demons?

When one of the greatest betrayals the Nephilim have ever known is revealed, Clary, Jace, Isabelle, Simon, and Alec must flee - even if their journey takes them deep into the demon realms, where no Shadowhunter has set foot before, and from which no human being has ever returned...
PREFACE:
So we are finally here, at the end (for real this time) of
The Mortal Instruments
series. I have had an up and down (mostly down) experience with TMI so I didn't know what to expect going into the last book. Okay, I knew to expect the deaths of six named characters, but that was about it. Thankfully, this read turned out to be quite a good one.
WRITING:
Clare has really grown in terms of her writing style, and for that I am glad. I had almost no problems with the writing, save one thing: she picked a new phrase to repeat. It involved Jace (or some character) "riding an enemy to the ground" as he killed them, using the momentum to attack the next bad guy. I thought that was a really cool image the first time it was used, but not so much the second, third, fourth, etc. times.
SETTING:
I enjoyed all the settings utilized in this story. We get a glimpse of the Los Angeles Institute, see Alicante, the Fair Folk underground, and the Hotel Dumort again, and a new place I was excited (and a little scared) to see. I though the world-building of the new place was really cool because I did not expect it to go that direction. The only drawback is that Clare spends what I feel like is too much time describing each setting. For instance, I don't care about all the flowers that make up the canopy of the Seelie Queen's bed, I want to know why we are there in the first place! (That's a bad example because that description wasn't very long, but you get my point.) All the description really interrupted the flow of the story because so much was happening that having to wade through those paragraphs about what the dirt looked like here and what that door looked like there was annoying.
CHARACTERS:
For me, Clare's biggest improvement from the last book was the characters. Jace was actually a good guy the whole time and someone I could understand fans flailing over. Clary was not a shrinking violet making stupid decisions and mistakes but a character with agency and intelligence. Isabelle and Simon continued to be great, as did Magnus, and Alec came out of nowhere being more awesome than ever with some especially priceless lines of dialogue. "MY EYES."
I wasn't expecting a bunch of new characters to appear in this book, it being the last in a series, but the novel actually starts by introducing us to the clan that will star in the upcoming series,
The Dark Artifices
. This includes the Blackthorn family and Emma Carstairs, who is only twelve in COHF, but already she is more awesome than all the characters in the first five TMI books combined.
There were also some characters from that other Clare series, The Infernal Devices, in COHF, and I would be lying if I said I didn't bounce around and giggle when they appeared together.
COOL STUFF:
My absolute favorite thing about COHF was the callbacks to TID and
The Bane Chronicles
. I thoroughly enjoyed TID and TBC and knew I'd get to see some characters from both, but there were other things woven into the text that were there as well. For instance, something happens with the London Institute in the early part of COHF. I thought it had something to do with Tessa, but I was wrong and when the real answer is revealed, I squealed out loud because the only way you'd get it is if you'd read TID. The same goes for some things Magnus talks about throughout the book, events and relationships that have only been seen thus far in TID and TBC.
VERDICT:
City of Heavenly Fire is the only book of the TMI series that kept me on the edge of my seat and reading as fast as I possibly could. I enjoyed it immensely, and while there were some sad parts (no tears from me because until this book I wasn't super-attached to most of the characters), overall it was action and relationships and snark all the way. I would recommend reading The Infernal Devices and at least most of The Bane Chronicles before reading COHF, just so you can catch all the references.